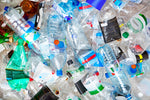 5 Low-waste swaps that are virtually free
Living a more sustainable lifestyle can be intimidating. There are a ton of low-waste products on the market that can often be expensive. But, low waste living doesn't have to break the bank. There are a ton of simple and inexpensive ways you can live more sustainably. Here are a few of our favourite easy and affordable plastic-free alternatives
1. Reusable bags:
Chances are you have a reusable bag or tote somewhere around your house. Next time you hit up the grocery store, bring along reusable bags instead of using plastic grocery bags. You may even save yourself a few cents on purchasing plastic bags where you shop.
2. Reusing the containers you have around the house
Just made pasta and have an empty jar of sauce? Just finished off a container of margarine? Instead of throwing those containers into the recycling, give them a good wash and reuse them. Empty jars and containers are perfect for use as food storage containers or organizing items around the house.
3. Pack a reusable water bottle.
According to GreenPeace Canada, plastic bottles and caps were the top collected item during shoreline clean-ups in 2019. Instead of picking up a case of plastic water bottles next time you're shopping, pick up a reusable water bottle. Not only will this save you a ton of money on purchasing water bottles, but you will also significantly reduce your plastic waste. 
4. Bring your own utensils:
Going to a family BBQ or making a quick pit-stop for fast food? Bring reusable utensils instead of grabbing single-use plastic utensils to eat. A small fork or spoon can easily slide into your purse or backpack and can be washed and reused infinitely. 
5. Swap paper towels for rags and cloths:
According to The Paperless Project, discarded paper towels account for 254 million tons of trash globally. Instead of paper towels, use rags and clothes you already have around the house for quick clean-ups. Looking for something a bit more absorbent, Swedish sponge cloths. Sponge cloths replace the use of up to 17 rolls of paper towels, reducing the plastic packaging and overall waste in landfills. Find Ten & Co Swedish Sponge Cloths here.